Blog|更新日:2017年11月11日/土曜日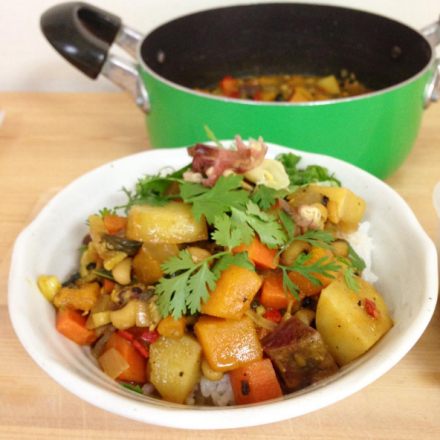 I love curry so much that I know I have already written about it in this blog in the past. This time, I want to talk a little bit about my quest to cook my own good curry at home. Whenever I tried to make curry before, I would use a roux bought from my local grocery store, which resulted in a sweet, Japanese-style curry. Of course it was delicious, but I always yearned for something that better approximated the curries that I enjoy in Indian or Nepalese restaurants in Japan.
I know the best curries use high-quality spices that are toasted and ground up right before the preparation of the curry, but going that route made me feel a little intimidated (high-grade whole spices seem expensive, and I neither have nor desire the special equipment needed to properly grind them down to a fine powder). I figured the second best thing might be buying different individual spices at the grocery store and concocting my own special blend. 
The last time I made curry, I fried garlic, chilies, ginger, and onion in vegetable oil until they softened, and then added a variety of chopped vegetables and beans. Then I stirred in a large amount of cumin, and smaller amounts of ground coriander, fenugreek, turmeric, cardamon, turmeric, red pepper, black pepper, cinnamon, nutmeg, and cloves, as well as some whole bay and lime leaves for good measure. I found heating the spices in the oiled pan helps to infuse the oil and vegetables with their flavor. I also found that newly-purchased, freshly-opened spices also have a decent flavor and fragrance, even if you're buying them pre-ground. 
Once the essence of the spices imbued the oil and ingredients in the pan, I deglazed it with some cooking wine, white soy sauce, sake lees, vinegar, and lime juice (though I can't vouch for the culinary accuracy of any of these selections!). Then I added some sugar and smoked salt, as well as some broth to give the curry a slightly more saucy consistency. I simmered the mixture until the vegetables and beans were soft and palatable. I placed a big scoop of the curry placed atop some white rice and garnished it with a dollop of soy yogurt and freshly chopped cilantro (and on a few bowls I even experimented with lime wedges and sliced purple Japanese ginger). The result was delicious and also pretty pleasing to look at, as you can see from my photo above!
If you like curry and you have the chance, why not try making some using your own original spice and seasoning blend? It just might end up being an exercise in deliciousness.