Blog|更新日:2018年9月13日/木曜日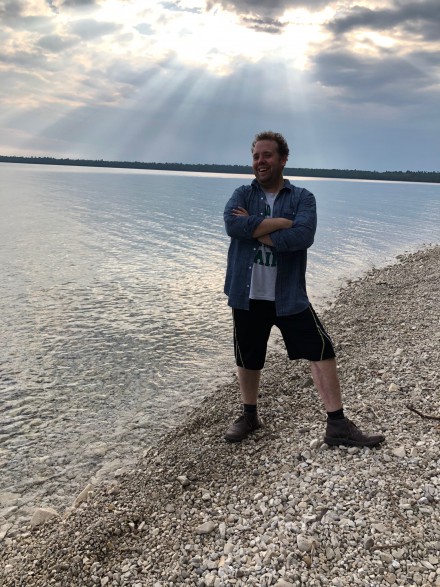 Over summer break, I stayed with my father and stepmother in a modest cottage on a small island in Lake Huron, one of the five Great Lakes in the U.S. The island's name is Bois Blanc, and it's a heavily forested island that is only accessible by ferry. Besides the port for the ferry, it has a restaurant that doubles as a dry goods store, one tavern, two churches, a small town hall, a tiny post office, a one-room schoolhouse, and a lighthouse. Apart from that, it is mostly little homes and cottages. Apparently only 45 people live there year round, due to the island's inaccessibility and the harsh winters there. 
My main goal during my stay was to relax, and the island was perfect for that. There were no distractions, there was lots of water and trees, and little to no hustle or bustle, other than when the ferry came or went. The cottage my parents and I stayed in didn't have internet or a TV, but was very nicely decorated and furnished. I took the chance to the talk a lot with my dad and stepmom, stroll around, swim, and take bike rides.
My high school friend joined me on the island for one day and we cycled from the southernmost point to the lighthouse at the northernmost point. The trails were all dirt, sand, gravel, rocks, and roots, so the 40 kilometers there and back was quite challenging… I even fell off my bike once! But getting to the lighthouse made us feel really happy and accomplished. The shoreline there was really interesting because it was perhaps 10-15 meters of undulating beds of gray stones. Most of them had indentations that reminded me a bit of cuneiform.
It was such a pretty sight that I was surprised that no one else was around. In fact, my friend and I didn't see anyone else on our bike trip except an old couple in a pick-up truck, a young, good-looking couple on a morning run, and the lighthouse keeper (who looked a little surly). Without a doubt, the bike ride was my favorite part of my time on Bois Blanc. Perhaps I'll go back and try it again someday!
Ryan