Blog|更新日:2022年6月20日/月曜日
The final hotel on our tour of the Tokyo Disney Resort Area is the Disney Ambassador hotel!
The Disney Ambassador Hotel is a deluxe Art Deco-themed hotel. This hotel is special because it was the first of the official Disney hotel to open in the resort area back in July of  2000. The hotel is connected to Ikspiari a huge shopping an entertainment district similar to Disney Springs complex that exists in Florida.
Rooms start at 39,100 yen / $346 Dollars per night for the Superior Rooms. There are also character-themed rooms for Stitch, Mickey Mouse, Donald Duck, Minnie Mouse, and Chip 'n' Dale ( the one I stayed in) that start from around 47,400 yen or 420 Dollars per night.
The lobby features a high ceiling with a beautiful — and huge — mural with Donald Duck and a variety of other Disney Characters in an airplane with skywriting saying "Disney Ambassador Hotel." Right in the middle of the lobby is a statue of Mickey and Pluto.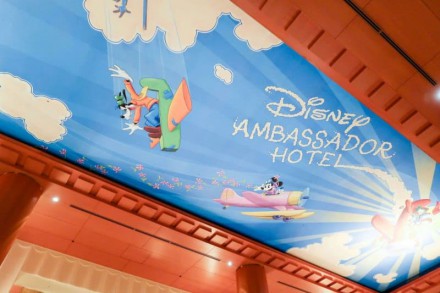 There is also this amazing staircase with a beautiful mural! I think this is a great spot to take some photos for Instagram!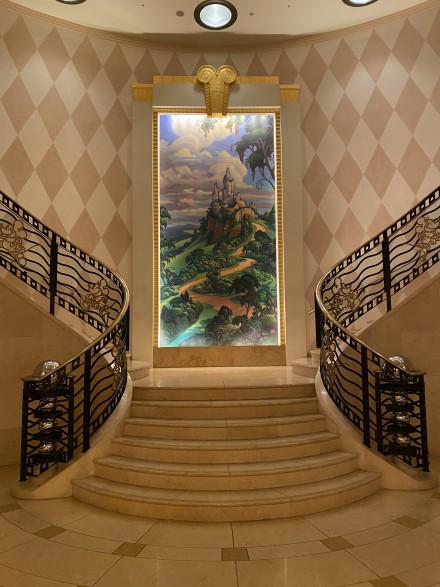 The room I stayed in was the Chip `n Dale themed room.This room has a real air of playfulness, with portraits of Chip 'n Dale on the headboards.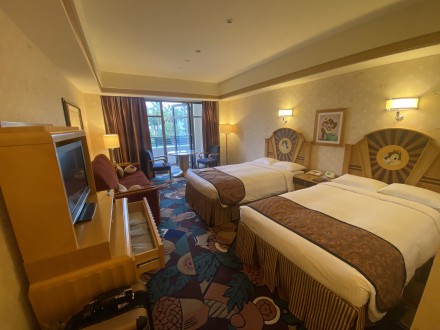 Oak leaves and the chipmunks' favorite acorns adorn the carpet and bed throws, while the mischievous pair are pictured on the bathroom door and mirror. The cushions on the sofa each come in the trademark color of their noses. If you look very carefully at the wallpaper you will even see the duo there!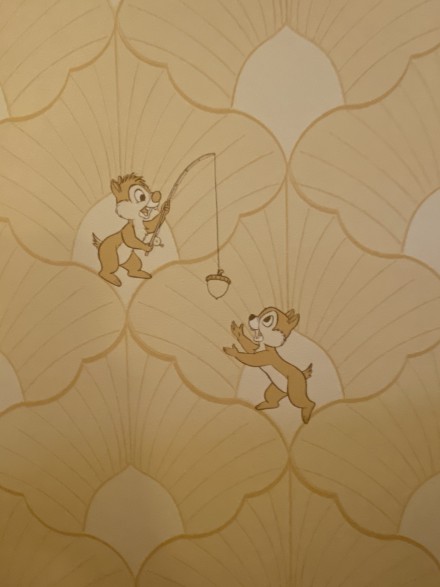 The room came with pajamas, slippers, a Disney Ambassador branded shopping bag, and various toiletries (toothbrush, razor, shampoo, body wash, and soap). Because this was a character room there was also a special Chip `n Dale themed pouch! It was super cute! I also got some really cool postcards!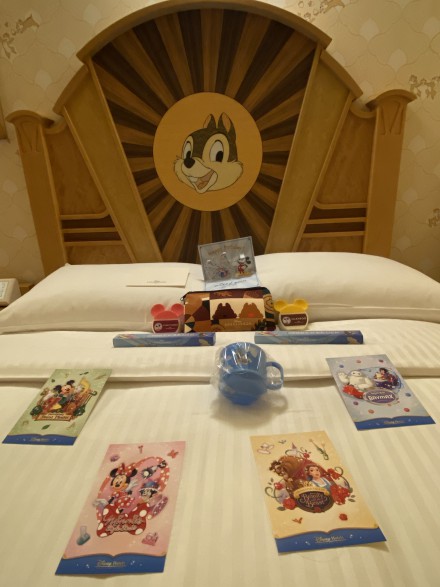 Overall this is the most affordable of the Deluxe Tokyo Disneyland Resort hotels. The hotel`s location at Ikspiari means that you have a ton of options for dining, shopping an entertainment! Spending a little extra for the character themed rooms also really added to the fun and whimsy of my stay!
I hope you enjoyed this three-part series on the Deluxe Resorts at Tokyo Disneyland! See you again soon!