Blog|更新日:2022年7月3日/日曜日
Did you know that a new Disney cruise ship was launched this week? That's right, the Disney "Wish" is a world-class ship that will offer 3- and 4-night cruises from Port Canaveral, Florida to Nassau and Disney Cruise Line's Castaway Cay. Passengers will be able to experience unique entertainment (including two new theatrical performances,) characters, exclusive merchandise, and even Frozen or Marvel-style dining! The ship will have many different restaurants that are unique and special. Step into the magical worlds of your favorite Disney stories and enjoy delectable fine dining at 3 brand new upscale family restaurants. For example you could stop by Arendelle: A Frozen Dining Adventure – That will allow you to be part of the world's first Frozen themed theater dinner as you are magically transported to the enchanting kingdom of Arendelle.  Looking for something will a little more action? How about a reservation at  "Avengers: Quantum Encounter" to witness Ant-Man and the Wasp in action using powerful Super Hero technologies. Activate your Quantum Core at your table to shrink or grow objects using your hands. Then join forces with the Avengers in an action-packed mission. Enjoy a worldly menu inspired by the Marvel Cinematic Universe while you're at it.
Want some adventure outside of the dining room? Check out the AquaMouse where the adventures of Mickey and friends will be brought to life! Complete with show scenes, lighting and special effects, this first-of-its-kind water ride will send you on a fun adventure through 760 feet of winding tubes providing breath-taking views of the ocean, before splashing down into a lazy river!
And of course there will be tons of characters to meet! Mickey, Minnie and all their friends along with your favorites from Star Wars, the Marvel Universe, and beyond will all be making an appearance on this cruise!
Don't forget the rooms! You'll be able to choose from several room types, but don't think you'll miss out on the magic just because you've chosen the cheapest room! No no! All of the cabins are themes with murals, decorations, and little hidden touches that will help bring the magic to life!
So, how about it? Would you spend a week at sea on this Disney Cruise?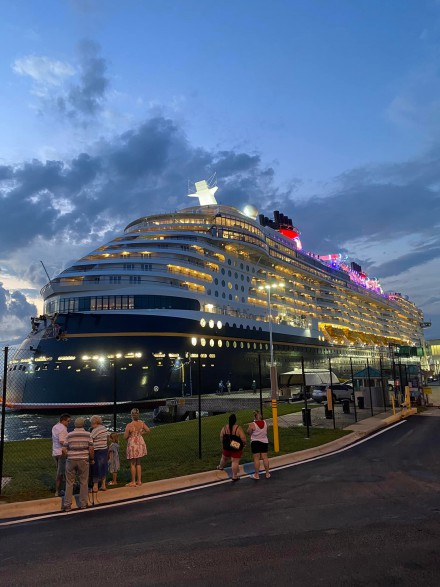 By MissPlaying – Own work, CC BY-SA 4.0, https://commons.wikimedia.org/w/index.php?curid=119520321