Blog|更新日:2022年9月4日/日曜日
Jambo everyone! Welcome back to the third and final installment in my series about Disney's Animal Kingdom! This week we'll be talking about what to eat and where to shop!
At Disney's Animal Kingdom, several restaurants encourage guests to use mobile ordering in the My Disney Experience app. Satu'li Canteen, Flame Tree Barbecue, Restaurantosaurus and Harambe Market have used mobile ordering exclusively (the only exception is if you don't have a smartphone). There are five categories of dining options at Animal Kingdom: Table Service, Character Dining, Counter service, Bars & Lounges, and snack stops. Table service restaurants are traditional, sit down at a table and order from a menu restaurants. These meals can last anywhere from 35 minutes to upwards of two hours. Character Dining is a table service restaurant that will have Disney characters present during your meal. Counter Service meals are quick, fast-food like options . Bars and lounges are a more laid back atmosphere where the drinks are the specialty! Snack stops are small kiosks located around the part that usually only have one or two items, these include things such as popcorn, spring rolls, and turkey legs!
In Animal Kingdom your table service resturants are Rainforest Café, Tiffins, and Yak & Yeti. Your character dining restaurant is Tusker House. The counter service locations are Creature Comforts, Flame Tree Barbecue, Harambe Market, Pizzafari, Restaurantosaurus, Satu'li Canteen, Yak & Yeti Local Foods Café, and Yak & Yeti Quality Beverages. The bars and lounges are Dawa Bar, Nomad Lounge, Thirsty River Bar and Trek Snacks, and Warung Outpost. Finally the snack locations include Anandapur Ice Cream Truck, Caravan Road, Eight Spoon Cafe, Corn-Ivores, Dino-Bite Snacks, Dino Diner, Drinkwallah, The Feeding Ground, Frozen Treat Carts, Harambe Fruit Market, Joffrey's Coffee and Tea kiosks, Mahindi, Mr. Kamal's, Isle of Java, Kusafiri Coffee Shop and Bakery, Pongu Pongu, Royal Anandapur Tea Company, Tamu Tamu Refreshments, Terra Treats, The Smiling Crocodile, Trilo-Bites, and Zuri's Sweets Shop.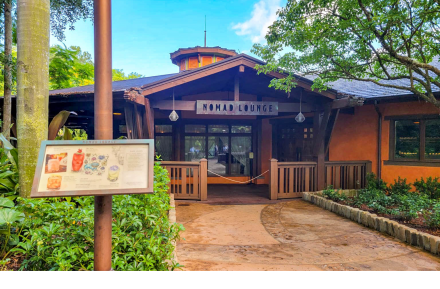 I hope you've enjoyed this series on Disney's Animal Kingdom! Thanks!