Blog|更新日:2019年1月26日/土曜日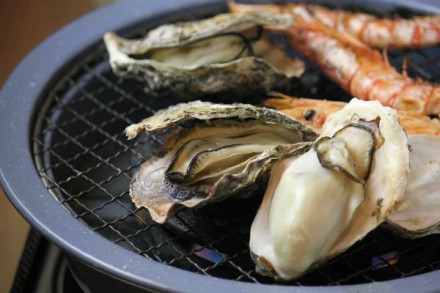 While living in America, I never ate oysters.  This is mostly because no one in my family liked them much.  I always loved seafood of all types, though.  Shrimp was my favorite.
After moving to Japan, I was served kaki fry, or fried oysters.  These were delicious.  I have enjoyed eating kaki fry every winter, when they are in season.  This year, I was invited to go to Mie ken, which is known for oyster bars.  You can sit at a table with a grill and eat all the oysters you want for 1 hour.  What a treat!  
So we drove to Mie to eat oysters.  It was about a 3 hour drive.  When we got close to the oyster bar, the roads became mountainous, with lots of dangerous, winding roads.  We finally arrived, and were seated quickly because we had reservations.
The workers had to show us how to grill and eat the oysters.  I didn't know how long they needed to be cooked, I didn't want to under or over cook them.  I ate tons of oysters and got very fat.  I'm happy to have the experience of eating oysters in Mie ken.  i would recommend it to everyone.