Blog|更新日:2019年1月9日/水曜日
Over the winter vacation one of my best friends from America came to visit me. It was her first time in Japan, so I was excited to share this amazing country with her. We met in Tokyo first, then went back to Ogaki, and made a day trip to Osaka one day, and Kyoto another. She really enjoyed herself here, which made me happy. 
One thing we did in Tokyo was eat at an unusual restaurant. See, if we wanted to eat dinner, we had to catch it ourselves. In the middle of the restaurant was a large aquarium filled with different types of fish and crustaceans. My friend and I wanted to catch bigger fish and have it made into sushi, except we weren't very good at fishing…It took us about 45 minutes to catch one fish! For some reason, they weren't taking the bait on our hooks. They must have been smart fish. 
Eventually I caught one by simply dragging my hook in the water, but I felt bad for piercing the fish. Even though I love sushi, I guess I should just avoid fishing from now on.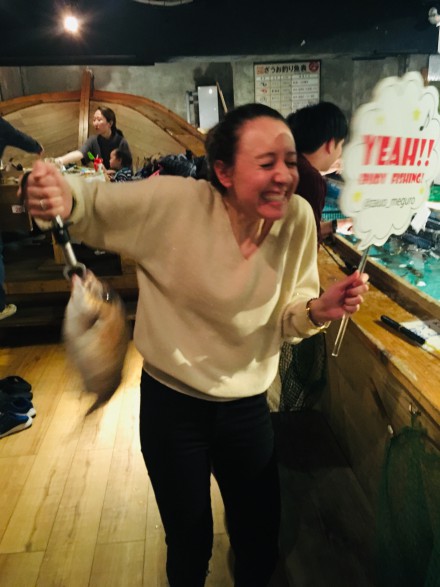 AHHH it lives!